Lannebo Fonder selected "The best fund managment company 2015"
Di & Morningstar shower Lannebo Fonder with awards including "The Best Fund Management Company 2015".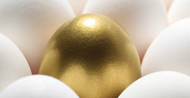 Lannebo Fonder's fund managers won big when the awards for Best Fund Managers in 2015 were presented. Awards are given in several categories, of which Lannebo Fonder's fund managers won Gold medals in two categories in addition to two Bronze medals. Charlotta Faxén and Peter Lagerlöf were awarded a Gold medal for their management of Lannebo Mixfond, a fund that can vary its equity holdings from 0 to 100 per cent. They succeeded exceptionally well with both the allocation as well as with the individual equity and fixed income investments during 2015. This resulted in a return of 14.7 per cent, compared to the benchmark index return of 5.4 per cent.
Claes Murander also received a Gold medal for his management of the technology fund Lannebo Vision. The fund has performed well for several years and in 2015 Claes returned a fantastic 30.5 per cent, compared to Morningstar's fund category average (New Technology) of 10 per cent or the fund's benchmark index which increased by 14 per cent.
Lannebo Fonder was also awarded bronze medals in two additional categories. Lars Bergkvist and Martin Wallin, who were awarded a Gold medal in 2014, performed very well again this year and received a bronze medal in the Swedish Large Cap Equity Fund category. A bronze medal was also awarded to Johan Ståhl who performed very well compared to the competition in the Swedish Small and Mid-cap category for his management of Lannebo Småbolag.
Göran Espelund, Lannebo Fonder's CEO, comments on the year: "The winning formula is genuine active management based on a long term view, independence and risk awareness accomplished by experienced fund managers. It is extra rewarding demonstrating this in a year when the value of active management has been questioned in many quarters."
In fact, in 2015 Lannebo Fonder's fund managers succeeded in outperforming their indices, after management fees, in 15 of the 16 funds managed by the company. Work is now underway to try to repeat this success in 2016!